I know I have been MIA for much longer than anticipated, with that said I AM BACK! Back with a fab review of a brand new kit from It Cosmetics. I have to say that I am a total QVC junkie. I tune in to all the cosmetic and skincare lines like I am in my own personal beauty classroom. I love to learn about all the new products on the market and also love to see how they are applied.
When I was asked if I wanted to review some products from It Cosmetics I couldn't write back fast enough. I was expecting to receive a mascara and perhaps another product, I never expected to receive a 5 piece, full size kit. This kit is actually on QVC as we speak as the TSV. The price is $54.96 and it is available on 3 easy payments! Ok now let me tell you my thoughts. Hurry we only have 24 hours!
This kit comes with the Celebration Foundation, Heavenly Luxe Buffing Airbrush Foundation Brush, Tightline Full Lash Length Black Mascara Primer, Hello Lashes 5-in-1 Mascara, and last but not least Vitality Flush 4-in-1 Reviver Lip and Cheek Stain Stick.
The first product that I couldn't wait to try was the foundation with that amazing brush. I read all about the wonderful ingredients packed into the foundation and thought that this would be perfect for my skin concerns. The brush definitely lives up to its name, it is heavenly. The color that I was sent in the foundation was medium. Due to the fact that I am a self tan queen, this was a little light for me. I will definitely be ordering the foundation in the tan which will be perfect. I did use it to see the coverage and whether or not it would look dry on me. This product was NOT dry at all. It actually looked moisturizing and had wonderful coverage. This felt like silk going on my skin. The combination of this foundation with this brush created a flawless finish on my skin. Since I was unable to wear this all day due to the color, I decided to bring it to work and share with my friends. I put it on two of my friends at work to see how it would wear throughout the day and also get their opinions. The women I used this on loved this product. It stayed on all day and looked flawless from the first application until the end of the day. Both of my friends couldn't wait for tonight to order. It was nice that I was able to see it on different skin types.
The mascara and primer are something that I used on myself and I must say I was totally impressed with this duo. My lashes were out of control, in a good way of course! My sister had actually ordered this mascara a few months ago and had told me how in love with it she is. I love the ball on the end. I can really get in there and extend even the shortest lashes. The Tightline primer is a unique product. This has a super skinny wand that allows you to get right in and coat the lashes right at the root. This can also be used as an eyeliner which is genius!
The Vitality Stick is such a fab product as well. This is a product that can be used on the lips and cheeks. It gives a perfect flush of color, the perfect color for everyone. Usually when I apply products like this they tend to be quite dry and turn a funky color of red. This product did not turn red and actually turned a gorgeous flush of pink. It made my skin look like it had a natural glow. This was moisturizing and stayed on for hours. This is also something that I wanted to share with my friends. I had used this with a disposable brush for myself and my two friends that I used it on. I had to disclose that so everyone knows I didn't have everyone using the same stick! Both of my friends loved this so much. Ok so now I have to tell you that this stick is no longer in my possession. One of my friends had it on her desk and then next thing I knew it was in her purse! OK I guess that's what friends are for. Little does she know that when she orders her kit tomorrow, THAT Vitality stick is MINE!
Jamie Kern Lima is the Co-Founder of It Cosmetics which actually stands for Innovative Technology! Jamie suffers from Rosacea and Hyperpigmentation. If you are able to catch her on QVC you will actually see her take her makeup off and reapply it on camera. This is an amazing transformation.
Jamie believes in solving beauty problems, making our life easier, making us feel our most beautiful and most importantly bringing us joy. I have really been enjoying these products and so have the friends I have shared them with. I too believe that the correct beauty products can bring joy! I love to share beauty finds with my friends.
In the case of finding a wonderful cosmetic line that makes it as easy as one, two, three - This case is SOLVED!
Detective Kathy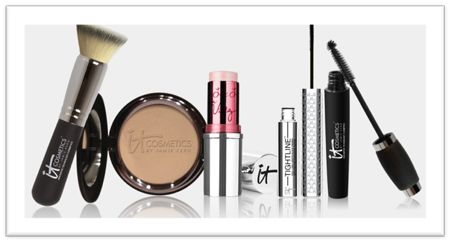 www.qvc.com