I thought I would share a little story with all of you about the power that perfume has over people. I have been wearing perfume since the Avon pins my sisters used to buy me with the perfume solid on the back. I am sure many of you reading have absolutely no idea what I am talking about (see below for pic). I can also remember going into my mother or sisters room and spraying theirs. I remember my sister's White Shoulders on her dresser. I can recall my mother's Chanel No5 bottle sitting on hers. I can even remember my dads Old Spice bottle sitting on his dresser. I once went over my dads wearing Chanel No 5, and he told me that it reminded him of my mother. As he sat there I know he was remembering so many good memories from the past. This is exactly what perfume can do. Perfume is very powerful and can invoke emotions in someone. Perfume has the power to make someone feel a certain way, think of a certain place, or remember a certain time or person. With that said, I would like to tell you what else a perfume can do for you.
The other day at work I walked into another office. One of the girls asked me what kind of perfume I was wearing, since I have moved on from the Avon pins and was not wearing my fragrance on my shirt, I immediately went to my purse and pulled out my half full bottle of Bond No9 Nuits De Noho. This has been one of my favs for years. She held it in her hand and asked if she could spray it. I of course said yes and she did. As soon as she put it on I could see a smile come to her face. She looked at me and said these words, "I feel pretty." That in turn put a smile on my face. I too feel pretty when I spray a perfume, especially this one. This made me so happy because I believe that every woman should feel pretty, not just some days, every single day of their lives. When I thought about this interaction, and even right now when I think about it, it puts a smile on my face. Yesterday was this gorgeous girls birthday, and how I wish it could have been a bottle, I gave her some samples of Bond No9 which included a sample of Nuits De Noho.
I guess my point is that I hope every woman who wears perfume or fragrance feels this exact same way. I truly believe that every woman should feel pretty. Perfume can invoke many feelings, memories, emotions, and also make someone feel good, I guess that perfume is pretty powerful!
So the next time you are in a department store and the fragrance model greets you asking, "Would you like to sample our new fragrance?" The answer should be, without hesitation, YES I WOULD LOVE TOO! It may remind you of something special, or just make you feel special yourself! Not all perfumes are created equal, and not every perfume is for everyone. If the perfume makes you feel pretty, no matter the price, BUY IT! You will not be disappointed.
In the case of spreading gorgeous fragrance all around - This case is SOLVED!
Detective Kathy
http://www.bondno9.com/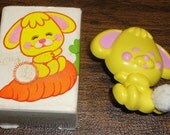 Avon Vintage Pin - This one was always my fav!
Yes, I know I have come a long way throughout the years!!!!